Türkler için Özbek dili!!!
Özbek dili öğretmeni hem Özbekçe hem de Türkçe bilmektedir ve öğretmenlik konusunda uzun yıllara dayanan deneyime sahiptir.
Dersler ZOOM platformunda Online olarak yürütülmektedir.
Derslerde kullanılan kitaplar öğretmenin kendisi tarafından hazırlanır ve yazılır.
Türkiye'den iseniz indirim almak için acele edin!!!
Bir grup - 4-5 kişilik. Indirimsiz fiyat 6000 TL indirimli fiyat tüm kurs için 5000 TL. Tüm kurs 3 ay sürer - 80 saat.

Tavsiye ettiğiniz her arkadaşınız için %5 indirim alacaksınız.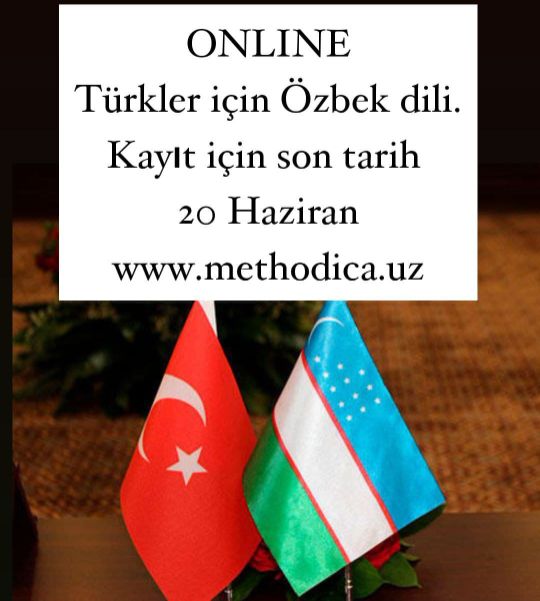 QUALITY RESULTS
Choose a great option for learning Uzbek — we offer more than 15 opportunities to live in an etho-trendy city and experience an Uzbek-speaking culture. Whether you like the fast pace and the friendliness of the East Life, the lore of the deep history, of the ancient cities of Uzbekistan, or unforgettable beautiful nature, there's an Uzbek learning center for you. If you'd prefer to study online, we have those options too. Regardless of which location you choose, we deliver a personalized learning experience that enables success. We've helped more than 500 students from 32 countries across the globe learn Uzbek, and we can help you too.

WE HAVE NO COMPETITION
We can safely state that we are the only professional language schoo all over the world offering various Uzbek language courses to foreigners. We are also the only non-governmental educational organization in Uzbekistan that has received official accreditation from Tashkent State University of Uzbek Language and Literature.

Our school employs specialists with many years of experience working with foreigners. 80 percent of the tutors have the academic degrees. Many of them taught Uzbek language courses abroad at leading world universities. In addition, our tutors are based at the State University of Uzbek Language and Literature.

Our tutors teach courses only on modern books published in the last three years. The books which we are based on are not available for sale. Moreover, we work out a special flexible program for you, taking into account your interests.

4+
YEARS OF SUCCESSFUL WORK

KRISTI joy ROBINSON
USA
I studied at Silk Road International Academy (former name) when it was still in its beginning stages. Even then, I was highly impressed with the program, instructors and the variety of methodologies which were used to ensure that we received the best instruction possible. It was clear from the flexibility and personable nature of both the teachers and administrators that quality learning in a welcoming environment were of top priority to them. I recommend this language school for anyone who wishes to have a similar experience!

Johanna Mayer
Germany
I am a language teacher in Tashkent and wanted to take the opportunity to learn one of the local languages while in country. I was given that opportunity at Methodica Learning School (former Language School of Alisher Navo'I University) with an highly experienced professor. I am thankful about this experience which truely expanded my horizon and helped me to further develop my language learning competencies

Krista Lenahan
USA
Language School at Tashkent State University of the Uzbek Language and Literature is one of Uzbekistan's finest schools for studying the Uzbek language. The education I received here was professional and the instructors were knowledgeable, skilled educators. I'm so grateful for the opportunity to study at this prestigious university. It was an enriching experience!

Han Runxue
China
Tashkent State University of Uzbek Language and Literature
Oʻzbekistonga oqishga kelishimdan oldin men oʻzbek tilini umuman bilmas edim. Toshkentga kelib oʻzbek tilini bilmay men oʻz fikrimni qanday tushuntirishni bilmay Google Translate orqali odamlar bilan muloqot qilar edim. Methodika Til Markazi Oʻqituvchilarining metodikasi juda yoqdi va men bir ikki haftada oʻzbek tilida gaplashishni boshladim. Meni doimo televidenyega chaqirishgan va intervyu olishgan. Men Methodika Til markaziga o'zimning minnatdorchiligimni bildiraman. Sababi ularning metodikasisiz men oʻzbek tilini oʻrganishim qiyin boʻlar edi.

armin begic
"I was really satisfied with the Russian course I have attended. My teacher was very competent in breaking down the Russian language to me and sensitizing me for its peculiarities. Also I do value the positive study atmosphere in the course, which made my experience with the school even nicer."